Interpersonal Needs in the Workplace
This self-assessment has been designed for the Trust Leader to identify how you view your workplace, interpersonal relationships, and how leadership addresses those workplace relationships. Conflict is often the messenger, not the problem, and how we deal with conflict becomes what people see and react to.

This assessment is a cultural snapshot for the Trust Leader to design a strategy of training and implementation to change the culture. Data gathered from this assessment can be useful to inform and educate decision makers on the value and need for appropriate training.

Conflicts and misunderstanding happen every day and successful organizations use that energy in a positive way to improve respect, increase understanding, and harness inevitable differences in a healthy manner. This assessment provides insight to design, develop, and implement training programs for a healthy workplace.

Answer the following questions to receive an assessment of your experience. Your results, along with your colleagues will be also passed to the Trust Leader for analysis, review and action.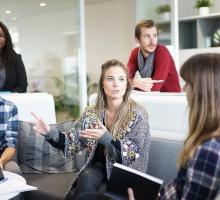 Απόκτησε πρόσβαση
Συμπληρώστε τα στοιχεία σας και θα λάβετε σύνδεσμο πρόσβασης για το εργαλείο.